The CARE programme is suitable for all primary care colleagues (both clinical and non-clinical): GPs, Practice Managers, General Practice Nurses, Allied Health Professionals, and all additional roles.
As set out in the NHS Long Term Plan, local NHS organisations will increasingly focus on population health and local partnerships with local authority-funded services, through Integrated Care Systems. The CARE programme will enable you to connect with like-minded people to develop and effect health changes locally.
This is an excellent opportunity for networking across primary care roles and gaining insight into the local system and future of Lancashire and South Cumbria.
To register for a place on the course, please complete the attached expression of interest form via the link below
CARE is a learning and development programme that empowers general practice nurses and other primary care professionals to play a key role in their primary care network, to shape services based on population health needs and to strengthen their leadership. Focussing on wellbeing and building and harnessing resilience, the programme uses digital technology to connect primary care professionals and to support joined-up, multi-professional working.
CARE's practical and person-centered approach has already led to more joined-up working in primary care networks, bringing together a range of health and social care professionals as a complete care community. This is not only helping with immediate acute care needs but is also supporting patients whose long-term conditions are likely to deteriorate during the COVID-19 pandemic.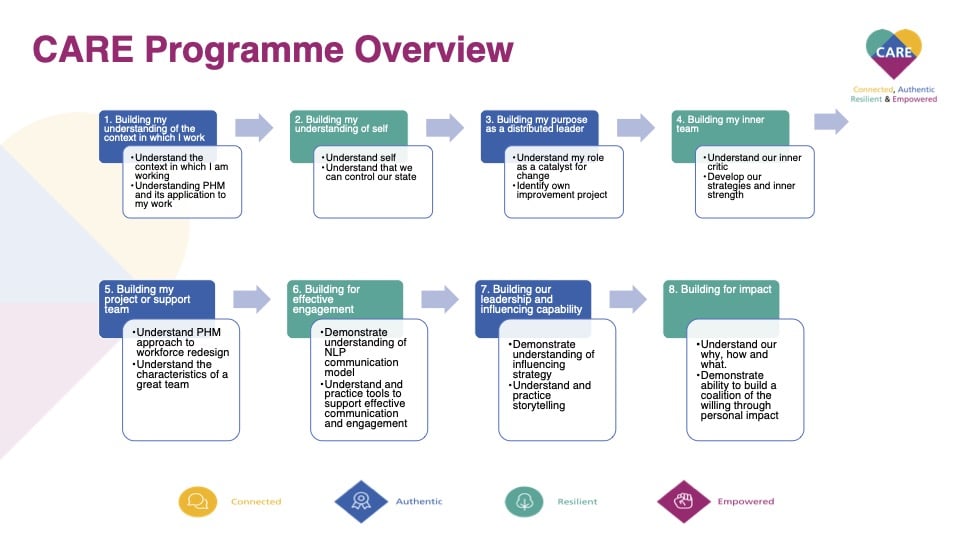 How long is the CARE programme?
The CARE programme is delivered by the National Association of Primary CARE (NAPC), consisting of 8 x 2-hour sessions run bi-weekly, with a focus on both population health management and wellbeing and resilience. An overview of the sessions can be found attached, with delivery scheduled as follows:
| | | |
| --- | --- | --- |
| Module | Date | Time |
| 1 | Tues 12th Sept | 13.00 – 15.00 |
| 2 | Tues 19th Sept | 13.00 – 15.00 |
| 3 | Tues 26th Sept | 13.00 – 15.00 |
| 4 | Tues 3rd Oct | 13.00 – 15.00 |
| 5 | Tues 10th Oct | 13.00 – 15.00 |
| 6 | Tues 17th Oct | 13.00 – 15.00 |
| 7 | Tues 31st Oct | 13.00 – 15.00 |
| 8 | Tues 7th Nov | 13.00 – 15.00 |
To register for a place on the North West CARE Programme, please complete and return a copy of the Expression of Interest Form by the deadline: 5pm on Friday 18th August. 
Please note there are limited places available on the cohort and they will be allocated on a first come first serve basis.
What topics does the CARE programme include?
Population health –  Building my understanding of the context in which I work
Wellbeing – Building my understanding of self
Population health – Building my purpose as a distributed leader
Wellbeing – Building my inner team
Population health –  Building my project or support team
Wellbeing –  Building for effective engagement
Population health –  Building our leadership and influencing capability
Wellbeing –  Building for impact
What happens when the programme ends?
Following the end of the CARE programme, a celebration and review event will be held and then move into AfterCARE, which is a continuation of the support available to you for both your project and wellbeing and resilience.
Where can I find out more?
Please see the following documents for more information: