Student Placements
Student type Available Tariffs Expected learner outcome, Expectation of practice: Student Placements & Tariffs
*Funding for apprenticeships is not guaranteed for all future intakes, and we confirm available funding when we announce each intake. For more information, please contact [email protected]
Samantha Jefferies is the Project Manager for Lancashire & South Cumbria Training Hub, for the Clinical Placement Expansion Programme.
Sam works in partnership with the Five Training Hub Localities;
Providing support to each Locality Training hub, Leads, Operation Managers, General Practice Education Facilitators (GPEFs – see below) and organisation Practice Education Facilitators (PEFs) in expanding clinical placements and ensuring the provisions are of a high quality multi-professional learning environment across the sectors.
We recently hosted our Webinar on A Persons Life Journey through Health and Social Care. View the recording below and download the powerpoint here.
The NHS Placement Charter must be visable in all practices, it has information for Students and Practice on. To view/download it click here.
We hosted the Student Placement Information Webinar on the 21st of April. If you missed it, please view the recording below:
The placements we offer include:
This placement has been developed in partnership with Primary Care, Social Care, Virgin Care 0-19 years, Student Quality Ambassadors, Patient Representatives, Edge Hill University, University of Central Lancashire, and University of Cumbria for Pre-Registration Nurses. This placement is a unique and innovative experience encompassing a 'Person's Life Journey through Health and Social Care', underpinning the journey from birth to death. The student experience will include allocated time within all 3 sectors which allows the student to gain a holistic overview of the person, care they receive and services they access across their life journey.
These placements are for students who are allocated to a main placement area (hub) where they will spend the majority of their placement, but also visit associated placement areas (spokes) for shorter periods of time in other settings and with different clinicians within the same allocation period.
Standard placements is one placement where the student will remain for the whole allocated time period.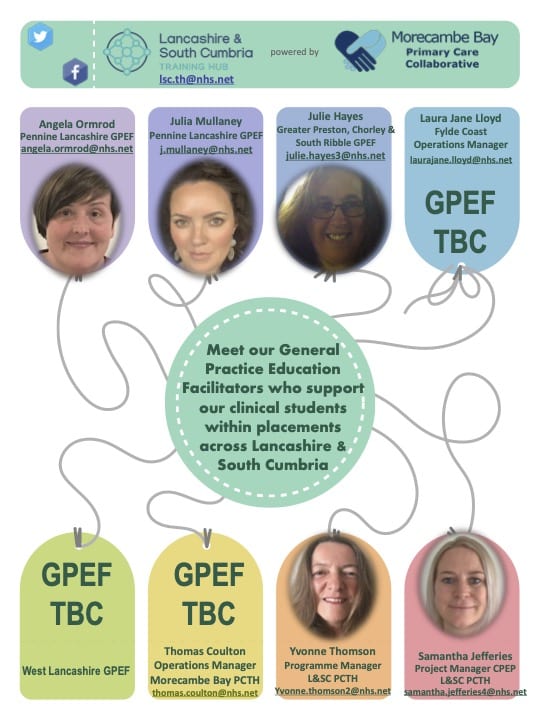 Please see Practices within each locality across Lancashire and South Cumbria. Download the full PowerPoint here