Immunisation and Vaccination Training (Imms & Vaccs)
Primary Care Imms and Vaccs Support: Introduction to Childhood Immunisation
2 days (face to face)
Dates
FULLY BOOKED 26th & 27th October 
FEW PLACES REMAINING 10th & 11th November
If you are interested in this course, please express your interest to
[email protected]
with the below details:
Name
Role
Practice
Tel Number
Practice Manager Name
Practice Manager Email Address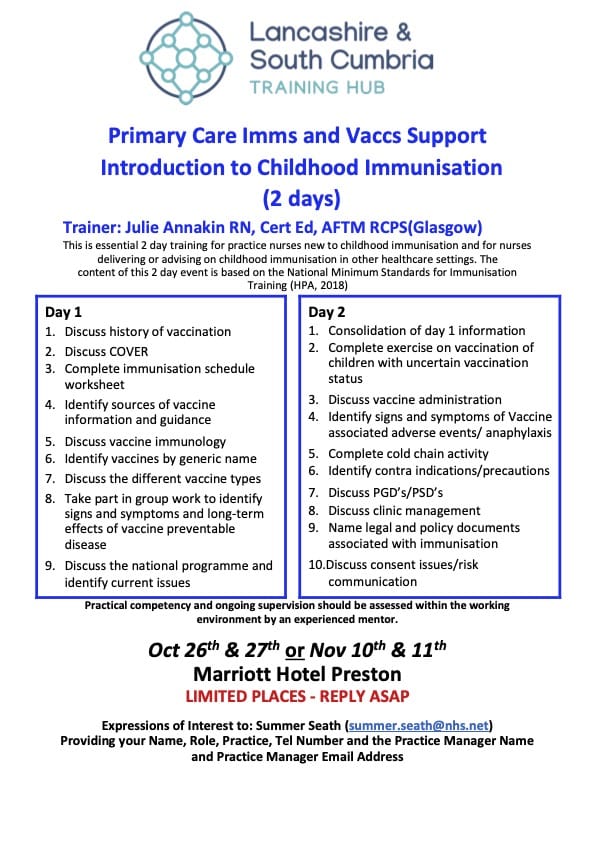 Immunisation and Vaccination Annual Update Training
Please note this training will be on virtually on MS Teams.
The Immunisation and Vaccination Update provides an annual update of current practice in relation to the immunisation schedules in primary care using PHE information.
This course is not suitable as a foundation training and is only an update and does not cover anaphylaxis or basic life support. This must be completed separately.
This course is for Clinical Experienced Vaccinators, those who have already been vaccinating and does not include non-clinical Covid only Vaccinators.
Useful Resources (update training):
The RCN has guidance for Nursing Associates and vaccine administration and staff who can administer Covid vaccinations:
Flu guidance: National Flu protocol