Supported ePortfolio Route
The Centre for Advancing Practice Supported ePortfolio Route is designed to enable Practitioners to evidence that they meet the advance practitioner requirements described in the Multi-professional framework for advanced clinical practice in England (MPF).
Currently, individual's would normally evidence this by successfully completing a Centre accredited Advanced Practice Programme. The Supported ePortfolio Route will provide an alternative route, by mapping knowledge and skills to the MPF using the Centre's ePortfolio.
The online application form will be available via the Advanced Practice website from Monday 13 December 2021 and will remain open until late January 2022.
MSc Advanced Clinical Practice
HEE Faculty for Advancing Practice across the North West are pleased to announce the expression of interest process for educational training funding for MSc Advanced Clinical Practice is now open.  
The deadline for submissions is close of business on Monday 14th February 2022 and the outcome of the process will be sent to organisations by the end of April 2022. 
Expression of Interest Form 
You can find a link to the online form within our guidance document on how to complete the expression of interest, here: Funding for MSc Advanced Clinical Practice Programmes across the North West 
Please find listed below (HEE NW) supporting documentation that supports organisations for this process:
If you require any further information, please contact: [email protected]
The Centre for Advancing Practice was established by Health Education England in 2020 this is to oversee the workforce transformation of Advanced Level Practice by;
Establishing and monitoring standards for education and training
Support and recognise education and training equivalence
Growing and embedding the advanced and consultant practice workforce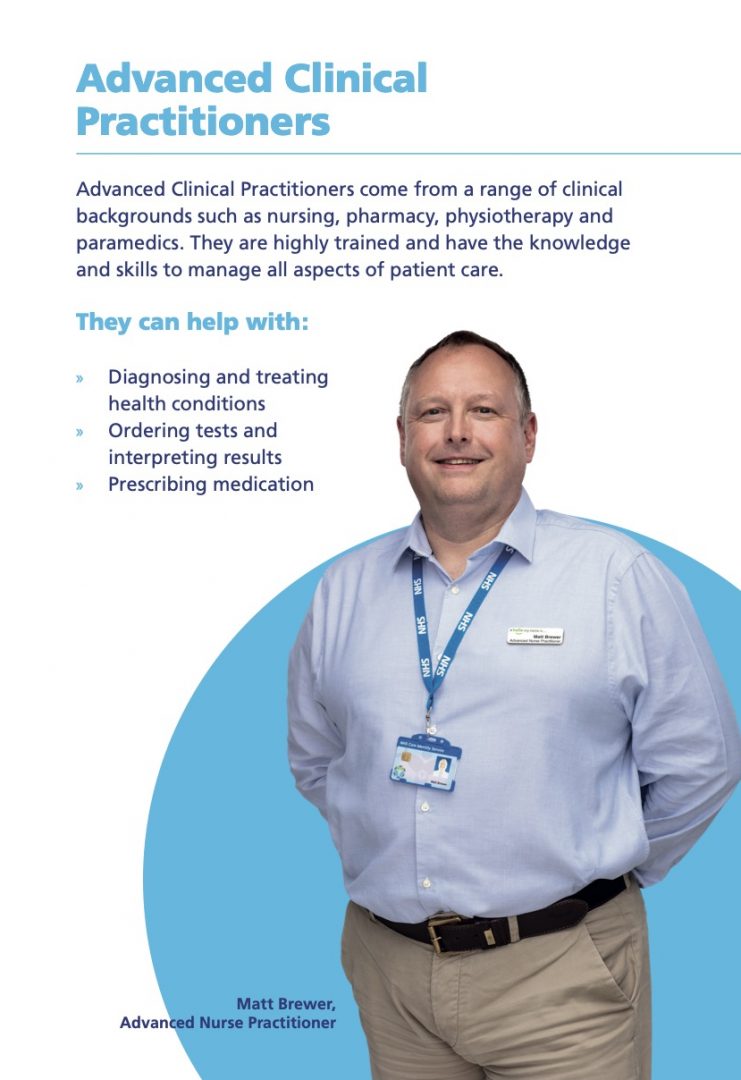 Consider in your practice how training your own ACP could:
Improve access to care delivery.
Offer a sustainable solution to some of your succession planning.
Consider what outcomes you would like to achieve for your practice. For more information or support, email

[email protected]

.
To submit your expression of interest fill out this form.
Benefits to your practice could include:
Embed a culture of learning and development
Improve retention and resilience
Enhance the skill mix within the practice
Enhance the multi-professional team and help to provide safe, accessible and high-quality care for patients
Form part of a sustainable business model
Advancing Practice in Primary and Community Care North West Virtual Conference 27.01.2021
Conference Presentations and Resources: 
Other resources:
Advanced clinical practitioners (ACP) come from a range of professional backgrounds such as nursing, pharmacy, paramedics' physiotherapy, and occupational therapy.
They are healthcare professionals educated to Master's Level and have developed the skills and knowledge to allow them to take on expanded roles and scope of practice caring for patients.
The ACP role within general practice will vary according to patient needs and the discipline of the registered practitioner. Advanced clinical practice embodies the ability to manage complex clinical care autonomously, managing both acute and chronic undifferentiated diagnosis. This may mean that those working in advanced clinical practice might operate outside traditional service delivery boundaries and potentially, traditional professional boundaries.
The educational requirement to become an ACP is typically completion of a 2-year master's level programme, that encompasses the four pillars of clinical practice, leadership and management, education, and research. On completion you will have demonstrated core capabilities, area specific clinical competence and non-medical prescribing (if not already completed). 
The programme will require the practice to support you by releasing you from practice to attend the designated sessions, allocating you a clinical supervisor, allocating protected time for learning in practice. You will need to evidence that you have completed studies at level 6 / 7 within the last 5 years.
Familiarise yourself with the Multi-professional framework for advanced clinical practice in the ACP Framework document here here.
What investment will I need to make?
Release your trainee to attend the university face to face taught sessions
Allocate protected learning time in practice
Provide clinical mentorship and support to the trainee
Training ACP within your practice should be considered as a viable option for sustainable workforce planning to deliver care that meets your population needs.
Growing your own workforce allows the development of specifically trained and skilled primary care clinicians. It provides opportunity for patients to receive timely care and negate unnecessarily delay in receiving treatment, especially with the growing shortage of GPs in primary care. ACP within primary care enhance the effectiveness service delivery by enabling the practice to offer the right care, to the right patient at the right time.