To apply for the Level 7 "AHP First Contact Practice in Primary Care" funding and module at UCLAN, please contact [email protected]
In support of the Additional Roles Reimbursement Scheme (ARRS), AHPs who want to follow the HEE Roadmap to Practice and work within Primary care will need to have a HEE Approved Supervisor.
See the EOI form here.
Dates will be confirmed once applications have been approved.
National HEI First Contact Practice webinar (HEE)
Tuesday 31 August: Book here

It is a webinar for HEIs who: already run FCP masters modules, for those who have them in development and for those thinking about developing them for MSK, paramedics, dietetics. OT and Podiatry.
It is also relevant to all Primary Care Training Hubs, Workforce Transformation Leads, Professional Bodies, ICSs, PCNs, Clinical Directors and HEE and NHSE/IRegional leads
There will be a national update on the FCP agenda by Amanda Hensman-Crook, a national update from the Centre of Advancing practice by Richard Collier, Supervision by Julia Taylor and Primary care Training Hub communication with Harminder Baines.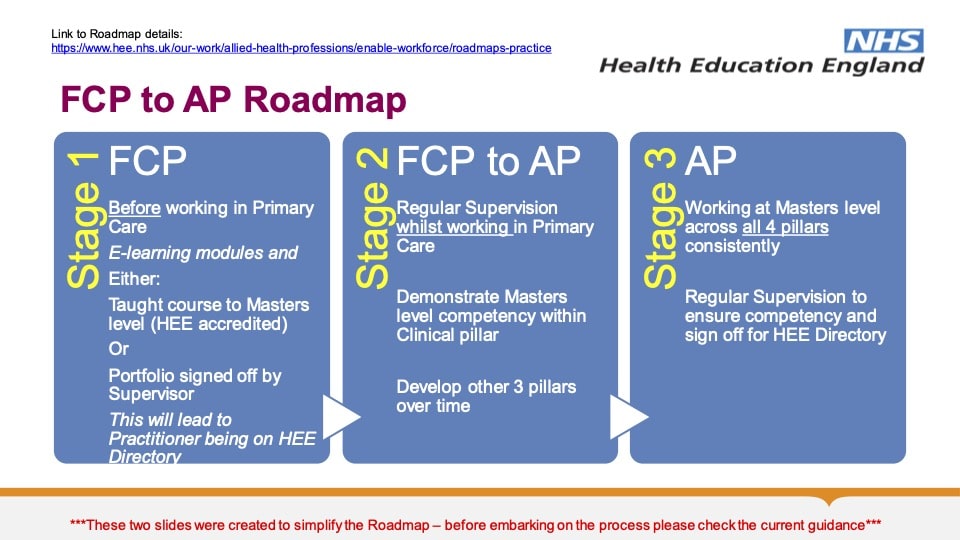 Click on an icon below to find out more about each First Contact Practitioner role
Allied Health Professions: Transforming Dietetic Services